BOOK US
For technical requirements, available dates, booking forms, and further information, please contact us at 306-522-3406 or email miranda@saskexpress.com. *Please indicate if you are looking for availability in our Summer Tour (June-August) or School Tour (February-March)*
With our show you will get: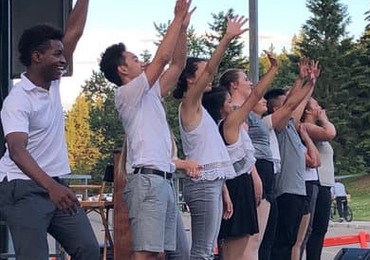 Professional, high quality, and energetic shows!
More than 40 years of experience providing top-notch musical theatre to clients across North America.
Some of the most talented young performers from across the province.
A vast variety of music and styles - something for all audiences!
Performances tailored to your events and time requirements.
Perfect entertainment for conventions, schools, special events, trade shows, fairs, exhibitions, and more.


REVIEWS
At SaskExpress, we love what we do and are thrilled to hear from audience members and clients. Here's just a few comments from some of our past performances:
"Thanks so much for an awesome SaskExpress performance! We really enjoyed the enthusiasm and talent of the cast! It was terrific fun having James and the cast! Thank you so much!" - Jill Sulz, Sydney Street School - Maple Creek
"I don't remember precisely how I discovered SaskExpress but after having seen one of their performances, I was so impressed by their level of artistry that I decided this was an organization I wanted to support. Since then, every year I make a donation to SaskExpress and to their Theatre Conversion Program. I highly recommend making donations to SaskExpress so that this worthwhile organization can continue to flourish." - Rose Schmalz, Regina
"Three of us attended the…afternoon performance in Regina. We have attended these performances for over a decade. We were so impressed with this professional performance. The costumes, the songs and the choreography were excellent. The consensus by the three of us was that this was the best Christmas performance we had seen on all counts." - Elsie Jauck, Lorna Vickers and Patricia Somers
"Thank you so much for the wonderful performance, we loved the afternoon of entertainment of song and dance. Your group had everyone singing, dancing and moving. We have been talking about your performance for days! You give everyone such inspiration to follow our artistic and creative side." - Grade 5 and 6 classroom from Kitchener Community School, Regina
"I must pass on a huge THANK YOU to SaskExpress for your fantastic shows you performed for us during Pelly's Centennial. All of your cast and crew are very helpful and professional. Again, thank you for such great entertainment. Your attendance at our celebrations really helped make our whole weekend something no one will soon forget." - Mary-Jean Vogel, Chair, Pelly's Centennial
"In a word, the performance was superb! I truly believe that the performance provided a special opportunity for young people to gain valuable training performance, personal development, perseverance and focus. The cast represented a wonderful diversity from a number of important perspectives. To each of them I say bravo and thank you for a delightful, spirited and entertaining evening!" - Reggie Newkirk, President, SaskCulture
"Effort, talent, dedication, perseverance, pride and professionalism are all qualities that are necessary to build a successful organization and SaskExpress is certainly a clear example of these vital building blocks. I commend you for all the work, dedication and passion that built Saskatchewan Express into what it is today and I wish you continued success in the future." - Brad Wall, then Leader of the Opposition
"…they were fantastic. They are very polished in set-up and stage organization and co-operate with needs of all participants. I have never seen our delegates give a standing ovation for a dance group before. I would recommend this group to anyone! It was such a pleasure to show Canada what great talent we have right here at home in Saskatchewan." - Judy Nagus, Executive Director, Mechanical Contractors Association of Saskatchewan, Inc.
"The performance was outstanding to say the least! There was never a dull moment during the performance or any moment where someone was not moving or singing. The crowd was continuously applauding the performance as it progressed, some even sang along to songs that they recognized. I have nothing but first-class reviews for SaskExpress." - Chad Slettten, Rosthern Fair, Rosthern, SK
"This group brings the entire package with high energy and provides a complete show for the audience of all ages. If you are looking for some outstanding, wholesome entertainment, we would highly recommend this group. These young and talented performers put everything they have into the performance and dazzle the crowd." - Thomas V. Kvamme, Williston Sports and Recreation Show, Williston, North Dakota
"They are so professional, wonderful performers and entertainers… we have truly enjoyed our relationship with SaskExpress, and recommend any organization to book this super group for any of your entertainment needs. You will not regret your choice for a moment." - Ken & Debbie Hook, Burstall Youth Memorial