SPARK - Performing Arts PRESCHOOL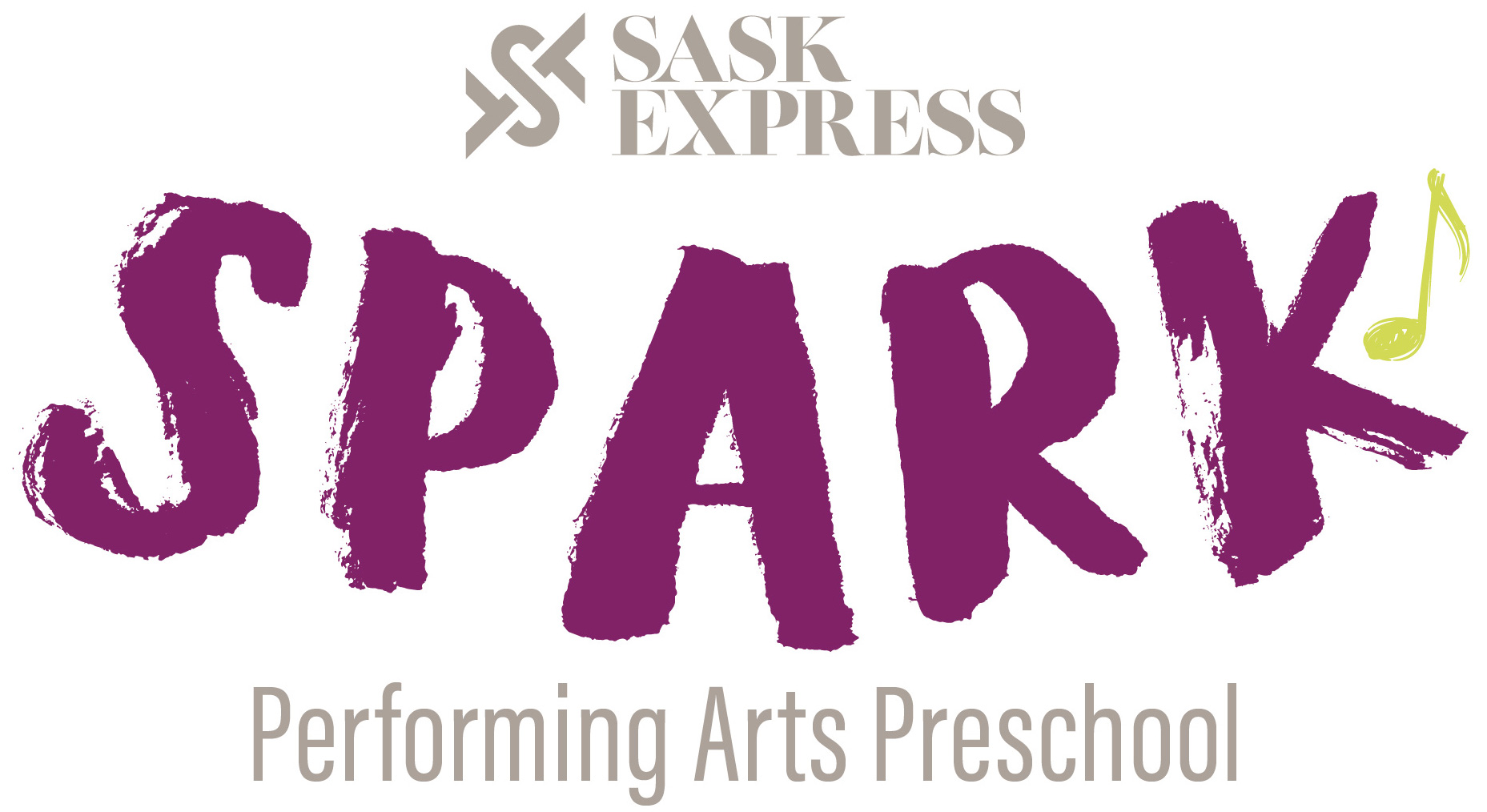 We teach the arts and then use the arts to teach.
Sing! Dance! Act! LEARN!
VISIT OUR OPEN HOUSE!
WHEN: Tuesday, August 15th @ 5:30-7:30pm
WHERE: 368 Edson St. Bay 40, Saskatoon
WHAT IS SPARK? Spark is a creative arts curriculum with enriched literacy and numeracy learning to prepare children as creative, compassionate, and confident individuals, academically and socially ready for kindergarten and beyond.
Browse the topics below for more information, including our curriculum, teachers, cost, and more. If you have any questions, or would like to arrange a tour, please contact us.
Spark Preschool Program
PROGRAM DETAILS
3 & 4 Year Old Program
Tuesdays & Thursdays
9:00 AM - 11:30 AM
$160.00 / Month + $75.00 Material Fee

4 & 5 Year Old Program
Mondays, Wednesdays and Fridays
9:00 AM - 12:00 PM
$200.00 / Month + $75.00 Material Fee
WHY THE ARTS?
Creativity counts! Numerous studies have shown that combining preschool academic training with music, dance, theatre and visual arts enhances learning pathways to improve cognitive, physical and social development. The arts can help prepare children for the classroom by:
Stimulating and developing the imagination
Refining cognitive and creative skills
Strengthening problem-solving and critical thinking skills
Developing a sense of craftsmanship, quality task performance, and goal-setting
Source: Americans for the Arts: 2002
Arts learning includes sensory, perceptual and physical experiences that develop understanding of important concepts, such as:
Relationships between space and time
Form and structure
The life cycle
Experiencing literature and storytelling through drama, dance and music assists with:
Connecting literature to personal experience
Developing perspective
Relating to others
ARTS BASED CURRICULUM
Allow SaskExpress Studio - Saskatoon to spark the creativity in your child's life-long learning journey with our A-B-C (Arts Based Curriculum) approach to learning!

CIRCLE TIME
Our day begins with Greetings and Group learning. During circle time, we focus on calendar activities, weather and numeracy activities. We will also use Animated Literacy which is a program that allows students to experience letters and sounds in a fun way but also in a variety of ways that helps tap into the diversity in student learning patterns.

VISUAL ARTS
Daily arts and crafts provide an engaging pathway to cognitive development in young children. In addition to strengthening hand-eye coordination and fine motor skills, students learn colour, shape and pattern recognition. In our class, students will be given the opportunity to create individual and group projects. The children will have the opportunity to experiment with a broad range of materials and media, including paper, glue, paints, collage and printmaking.

CENTERS + FREE PLAY
It's through play that young children come to know and understand the world around them. The socio-emotional, physical and intellectual development of children is dependent upon activity. We believe that play is the best way for young children to learn! In our classroom, they are given time each day for free exploration, experimentation and observation.

DRAMA
The drama component is designed to build confidence through fun. Our programming helps the students foster imagination, language development, social skills and expressiveness. The students will be given the opportunities to engage in creative expression through roleplay, puppetry, storytelling, dress up, mime, rhymes and more.

DANCE
Dance introduces movement in rhythm and provides a joyful way to develop large motor skills, coordination, spatial awareness, fitness, balance and self expression. Students will be introduced to creative movement using games and manipulatives such as scarves and streamers! In addition to creative movement, students will receive an introduction to musical theatre and jazz, tap and ballet with the focus on the Canadian Dance Teacher's Association (CDTA) syllabus as well as acro-dance using the Acrobatic Arts syllabus.

MUSIC
Our music curriculum will introduce the children to a variety of styles and musical expression and encourage students to find their voice. We will guide students in creating, performing, listening to, and discussing music. Students will have fun singing and developing a vocal foundation while also working with rhythm and exploring hand instruments and percussion.
INSTRUCTORS
MICHELLE GARRECHT - Teacher / Ceative Director
Michelle Garrecht (B.Ed, CDTA Licentiate (Stage-tap) Acrobatic Arts) began teaching dance as a teen. She earned an education degree specializing in early childhood development and has taught in the classroom. Michelle is now very excited to combine her love of the arts with early childhood education! She will create and explore as she works with our students to build a successful academic foundation. Through our preschool program, this foundation will carry Spark graduates into kindergarten and help them develop their voice as creative individuals.
We also have a support team of experienced arts educators who embrace our philosophy of using arts education to guide children as they grow into confident, creative and compassionate individuals.
PARENTS + GUARDIANS - We believe that you have an amazing role to play and want you to be involved in your child's first major learning experience. Each day we will have one preschool parent or designated guardian join us. We will work to design a schedule that fits your family.
POLICIES
STUDENT / TEACHER RATIO
Our ratio is 8:1 with a maximum of 16 students per program, with one teacher and one assistant with the children at all times.

SCHOOL SNACKS
We will have a daily snack time, and because of the activity level in our program, there will be several hydration breaks. We encourage you to send a healthy, nut-free snack for your child and a water bottle with your child's name on it.

POTTY-TRAINED
Children must be potty-trained (no pull ups) to attend preschool. We do know that sometimes accidents happen, so we ask that you provide an extra set of clothes for your child.

MEDICAL INFORMATION
To allow us to create the best possible program for our students, please provide us with any medical information that will help us best care for your child. This includes allergies and any identified physical or learning challenges. All information will be kept in confidence.

SOCIAL MEDIA + PHOTOGRAPHY
Parents/guardians will be asked to sign a permission form with regard to the use of their child's images on social media and/or in advertising. At no time ever will children's names or personal information be shared on a public platform.

SCHOOL SUPPLIES + ATTIRE
Students will require jazz and tap shoes. Students should wear comfortable, fitted non-restrictive clothing to school. For performances we will ask that students have black leggings and we will provide you with a performance t-shirt. For any questions regarding attire or dance shoes, please contact the studio at 306-477-5553 or saskatoon@saskexpress.com.

FEES + WITHDRAWAL
Please note that fees are due on the 2nd of each month. The monthly cost is averaged, so it is the same regardless of number of classes in any given month.
Please note the $75.00 material fee is non-refundable.
If for some reason you choose to withdraw, SaskExpress Studio - Saskatoon requires a minimum of two weeks' notice, and you will not be refunded for the month you are currently in. Withdrawals must be received in writing to saskatoon@saskexpress.com.
Before August 1 - All fees, minus the material fee, are refundable
Between August 1 and September 1 - September fees/material fees are non-refundable. Any additional payments made will be refunded.
Spark Preschool Trailer