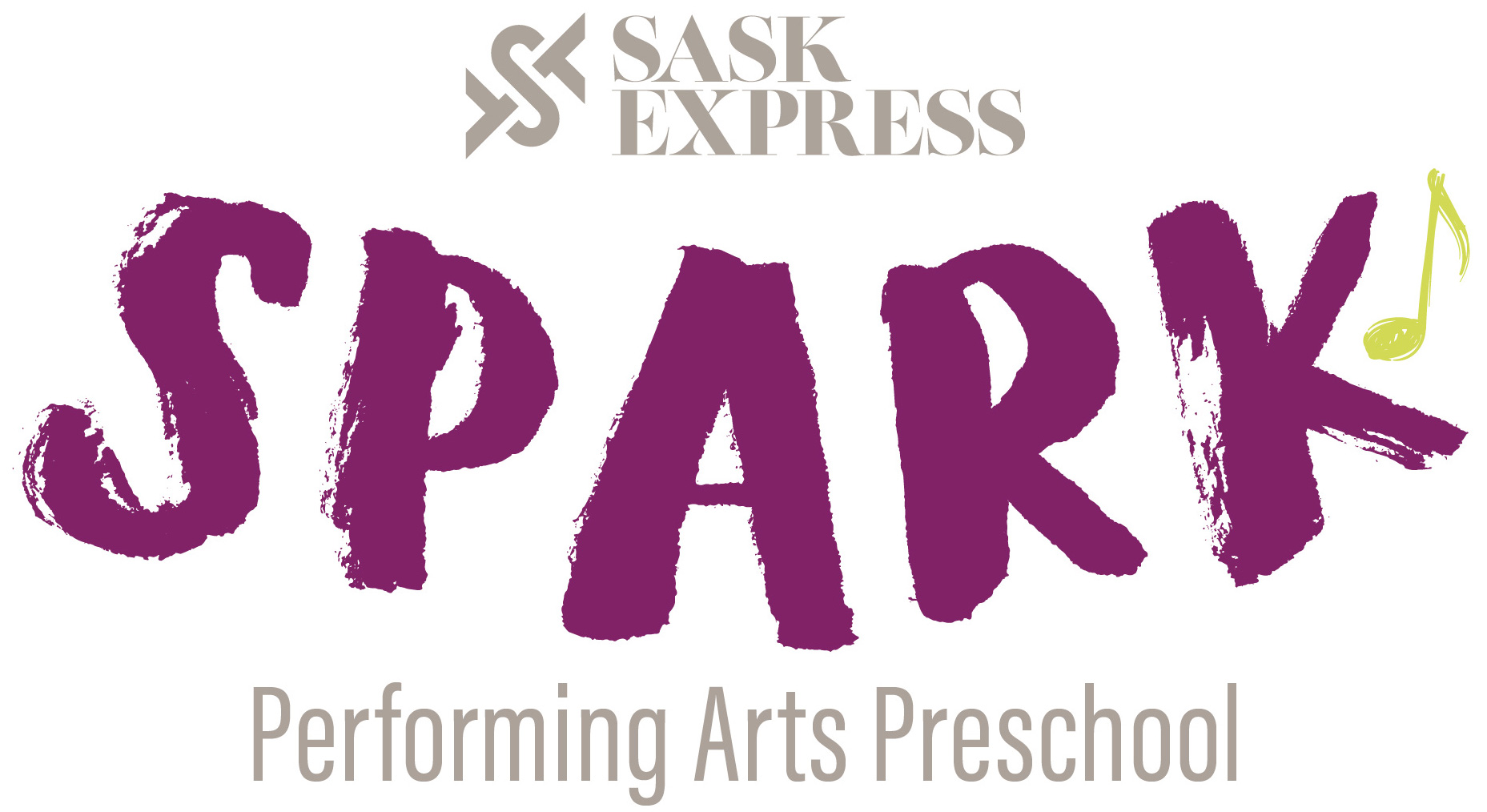 New this year! We're excited to be bringing our Spark Preschool Program to the Regina Studio! Spark features a creative arts curriculum designed for children ages 3-5. With enriched literacy and numeracy learning, Spark combines the fundamentals of the performing arts with imagination and play to prepare children as creative, compassionate, and confident individuals ready for kindergarten and more.
Click to register for the fall session (September - December), or learn more below. We can't wait for your child to begin their lifelong learning journey with Spark!
Spark Preschool Regina
Program Details
Fall Session (September - December)
Days: Tuesdays and Thursdays from 9:00 AM - 12:00 PM; September 7 - December 16
Cost: $185/month and a one-time, non-refundable $75 materials fee
Ages: 3-5 years

Depending on enrollment, students will be separated into a 3-4 group and a 4-5 group. Some activities will be completed together and some will remain separate to provide personalized instruction, best suited to each student's age, level, and learning style.
A winter session will be offered January - March, and a spring session April - June. Each session will conclude with a showcase performance for the class' family members and a presentation of each student's portfolio. Two progress reports will be provided in each session for shared communication and celebration of students' successes, milestones, and interests.
Why the arts?
Creativity counts! Numerous studies have shown that combining preschool academic training with music, dance, theatre and visual arts enhances learning pathways to improve cognitive, physical and social development. The arts can help prepare children for the classroom by:
Stimulating and developing the imagination
Refining cognitive and creative skills
Strengthening problem-solving and critical thinking skills
Developing a sense of craftsmanship, quality task performance, and goal-setting
Source: Americans for the Arts: 2002
Arts learning includes sensory, perceptual and physical experiences that develop understanding of important concepts, such as:
Relationships between space and time
Form and structure
The life cycle
Experiencing literature and storytelling through drama, dance and music assists with:
Connecting literature to personal experience
Developing perspective
Relating to others
What is an arts-based curriculum?
Spark the creativity in your child's life-long learning journey with our A-B-C (Arts Based Curriculum) approach to learning! Learn more about the pillars of our program below.

INTERACTIVE LEARNING
Spark is based on a foundation of interactive group learning. Academic areas of focus include literacy, numeracy, and the weather. Students will experience diverse and imaginative lessons that provide a stimulating environment for early exploration and discovery of the world around them.
VISUAL ARTS
Daily arts and crafts provide an engaging pathway to cognitive development in young children. In addition to strengthening hand-eye coordination and fine motor skills, students learn colour, shape and pattern recognition. Spark preschoolers will have the opportunity to experiment with a broad range of materials and media, including paper, glue, paints, collage and printmaking.

FREE PLAY
Children come to know and understand the world around them through free-play. The socio-emotional, physical and intellectual development of children is dependent upon activity. In our classroom, preschoolers are given time each day for free exploration, experimentation, and observation through play.

DRAMA
Our integration with drama is designed to build confidence through fun. Our program helps students foster imagination, language development, and social skills. Preschoolers will be given opportunities to engage in creative expression through roleplay, puppetry, storytelling, dress up, rhymes, and more.

DANCE
Dance introduces movement and rhythm, while providing an engaging platform for the development of large motor skills, coordination, spatial awareness, fitness, balance, and self-expression. Students will be introduced to creative movement using engaging learning techniques to foster early movement milestones. In addition to creative movement, students will receive an introduction to musical theatre, jazz, tap/rhythm, ballet, hip hop, and acro. Lessons will be integrated with the Canadian Dance Teacher's Association (CDTA), Royal Academy of Dance (RAD), and Acrobatic Arts syllabi.

MUSIC
Our music curriculum introduces preschoolers to a variety of styles and encourage students to find their voice. The music-based elements of our curriculum include sing-a-longs, percussion, rhythm studies, and more.
Program Policies
STUDENT / TEACHER RATIO
Our ratio of instructors to students is 8:1, with one teacher or assistant present with the children at all times.

SCHOOL SNACKS
Spark includes a daily snack time and several water breaks. We encourage you to pack a healthy, nut-free snack and a water bottle labelled with your child's name.

POTTY-TRAINED
Children must be potty-trained (no pull ups) to attend preschool. Sometimes accidents happen, so we ask that you pack an extra set of clothes for your child just in case.
SCHOOL SUPPLIES + ATTIRE
Students will require jazz or ballet shoes, and should wear comfortable, non-restrictive clothing. Tap shoes are an asset, but are not required.
FEES + WITHDRAWAL
Fees are charged on the 1st of each month. As the monthly tuition fee is averaged across all classroom hours, it is the same regardless of number of classes in any given month.
Please note that the $75.00 material fee is charged on September 1 and is non-refundable after this date.
Withdrawal notices must be received in writing to studio@saskexpress.com with a minimum of two week's notice. Previously charged monthly tution fees are non-refundable.